Ignite is a transformative 3-month mastermind that empower daNce studio owners to break through

overwhelm

, gain

clarity

, and access

individualised guidance

to

unlock their full potential
Ignite is specifically designed for dance studio owners who have less than 250 students enrolled and have been running their business for less than 5 years.
It's a unique opportunity for those who are seeking:
1:1 personalised coaching and mentoring just for you.
A group of like-minded individuals who support each other.
Tailored strategies to meet your studio's individual requirements.
A return on investment that is significant.
A structure that promotes accountability and progress.
The mastermind is tailored to provide the essential tools, strategies, and support to help you create a solid foundation for their business growth & expansion.
The Ignite Mastermind is specifically designed for dance studio owners who have
less than 250 students
enrolled and have been
running their business for less than 5 years
. It is best suited for:
Dance studio owners who want to break through overwhelm, gain clarity, and access individualised guidance to unlock their full potential.
Those who want 1:1 personalised coaching and mentoring just for them.
Studio owners who want to be a part of a group of like-minded individuals who support each other.
Those who want tailored strategies to meet their studio's individual requirements.
Business owners who are seeking a significant return on investment.
Individuals who want a structure that promotes accountability and progress.
Dance studio owners who want to create a solid foundation for their business growth and expansion.
Studio owners who want to play a bigger game, make expansive moves, and move fast when they know something is for them.
Individuals who are ready to play full-out despite the fear or discomfort they may feel.
Business owners who are done with settling, are craving more, and are willing to show up.
Studio owners who crave strategy and energetics.
Overall, the Ignite mastermind is for dance studio owners who are committed to taking their business to the next level and are willing to invest in themselves and their business growth.
When you are ready to get serious in your business and take your studio to the next level, it's all about creating a studio that will launch you to your next level.
I show you how to look at your business from the future and start strategically planning how to expand across all areas of your studio.
Having done it, you get insights from someone who is currently immersed in the industry, actively growing and experiencing the reality of what challenges are in front of us.
I went from 1 student to 1200, 1 studio to 6, and a team of 30+.
I have helped studio owners scale their business, increase their profit and step into their next level, and I will help you too. I give lots of hands on attention in this mastermind. You have step by step involvement in your studio from me. You get personal and individual guidance from me, plus an intimate community of 'high-level' studio owners who support one another and hold each other accountable.
Whether you are striving towards 250 students or wanting to build an exclusive boutiques studio, it is an exciting and challenging journey that will push you to innovate, strategise, and grow your studio like never before. With each new student, you will gain valuable experience and insights that will propel you towards even greater success
"Working for yourself can feel incredibly isolating, and not having anyone to bounce ideas off is hard.
The community is led with Jen's passion and knowledge and boosted by the other wonderful studio owners in it.
Jen's coaching is always informative and full of many pearls of wisdom, and she is always very approachable and realistic with her advice and suggestions.
With Jen's guidance I am regularly increasing my enrolments and have tailored my offerings so that they suit what is best not only for my customers, but also for me and my family.
I am looking forward to a long professional relationship and continued growth with Jen's support.
If you are sitting on the fence about making this investment, jump on in – you won't regret it."
Melinda – VIC, Australia
3-month intimate and immersive mastermind with a small group of other like-minded dance studio owners.
1:1 Clarity & Strategy Session (in person if possible): I work with you to determine your goals and work out exactly how we are going to get you there.
Access to my calendar to book in 1:1 coaching sessions each month.
Monthly group working session (2nd week of the month): to ensure you prioritise working on your projects to keep moving forward.
Monthly online meeting (4th week of the month) beginning with a 5-minute business update from each attendee. You will share your highs, lows, opportunities, challenges, goals, project progress and more.

VIP access to The Business of Dance Conference, including:

Gain access to the event
Exclusive access to the best seats in the house
After the event, enjoy a private dinner with Jen and a small group of coaches, where you'll have the chance to engage in detailed conversations about your business and receive tailored advice and ideas over a scrumptious meal and drinks.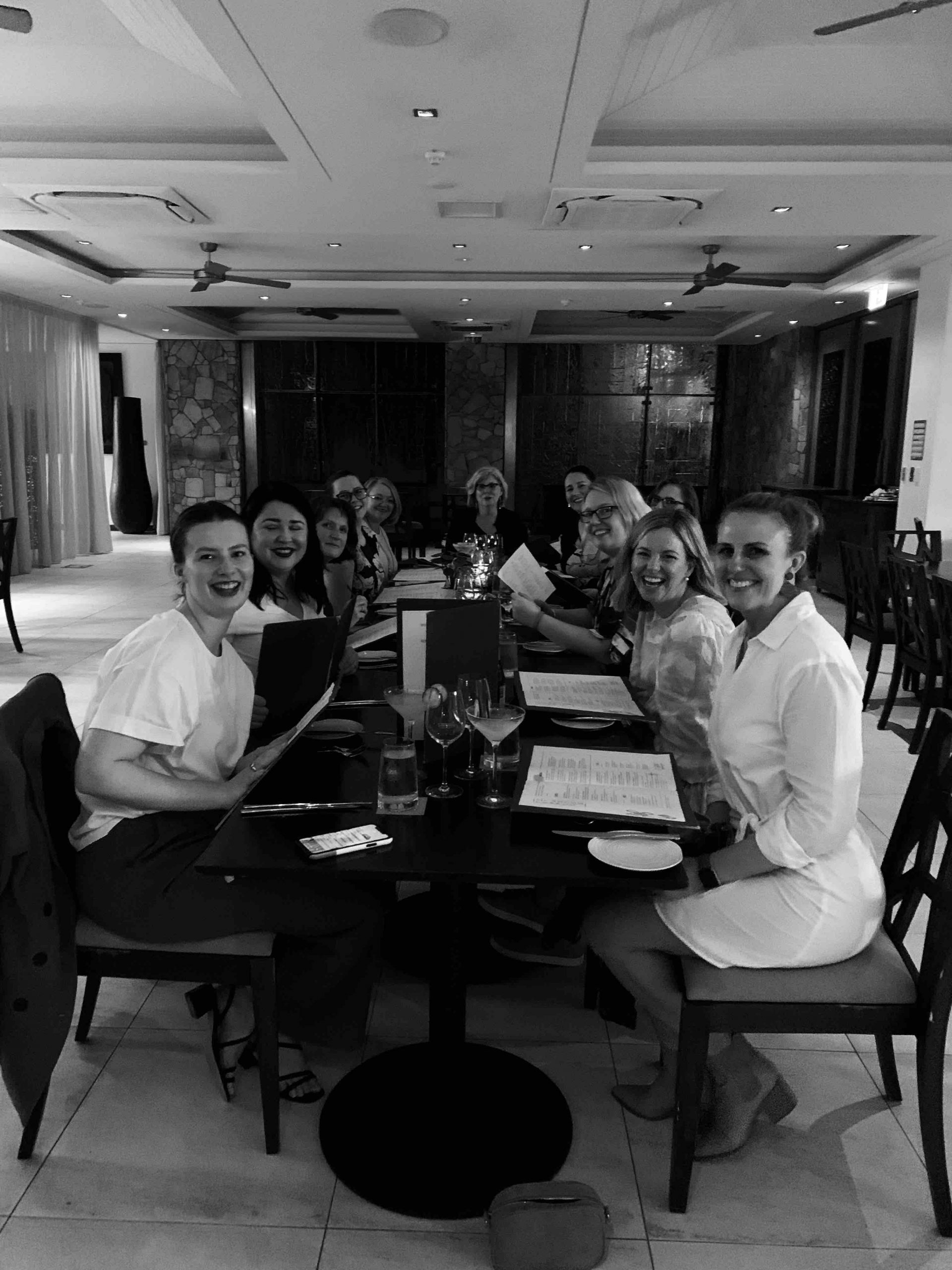 "My biggest struggle as a studio owner is confidence in my decision making – so it's been wonderful having someone to discuss pros and cons with before making big choices. Her experience means that everything has been tried/seen everything done in a million ways, so you can suggest ways of doing things that would suit my personal style well.
The process is easy! I was nervous for our first session – but Jen quickly and easily determined where I was on my journey and asked excellent questions to prompt me on where I'd like to go. Having the freedom to discuss what I feel would benefit me most on the day of each session is wonderful, but having you guide what I need to be doing short term has been excellent to keep me on track (not jumping way ahead and forgetting the little steps).
It's amazing having someone with so much experience in my corner, and I'm looking forward to continuing. I would highly recommend Jen to anyone looking to make their life easier, and goals bigger!"
Dana – NSW, Australia
Ignite is the ultimate solution for dance studio owners who are looking to take their business to the next level.
As a studio owner, you know that setting up your business across the 5 pivotal areas is essential to success are:
Shaping Your Dream
Business Development
Dancer Development
Teacher Development
Increasing your Revenue
When you're trying to grow your numbers or have been running for less than 5 years, you require a different strategy and thought process.
That's where Ignite comes in. This mastermind provides dance business mastery to set studio owners up for a fast track to success.
You'll learn how to try things, make mistakes, and develop trust and connection with your families.
This isn't basic-level information – it's the foundational work you need to achieve sustained growth and success.
With Ignite, you'll be well on your way to taking your studio to new heights, and the sky's the limit from there.
Jen Dalton is a leading authority in dance business education. She has crafted an easy to navigate process in her 4 Stages model that anyone could follow to progress in their dance teaching career. Jen is insightful and wise in her approach and looks at the individual and the industry wholistically. She is changing the landscape of dance business education working with her will ensure you become the best you can be for your own growth and that of your studio.
Emma Franklin Bell –
Dance Studio Mentor & Author of 'How to Run a Preschool Dance Studio'
"I have been working with Jen and other high-level studio owners in the mastermind for a few months now and have quickly realized she is an invaluable resource in helping me achieve my business goals. Jen has provided me with practical and actionable advice in helping me develop a clear plan for success.
Both individual and group calls allow time to brainstorm ideas and come up with creative solutions to challenges. These calls provide me with the accountability, insight, confidence, and support I need to stay on track and focused on my goals.
I am grateful for the guidance and support Jen has provided throughout our time together, and I look forward to seeing what is yet to come."
Colleen, USA
"If you're looking for someone to help guide you through your studio owner journey and help you excel in every way possible, then you seriously need to consider working with Jen.
Before working with Jen, I was overwhelmed and struggled to compartmentalise the many things on my to-do list. As most would know, there are so many different areas of business management that you need to consider, but the training and coaching gave me very clear and precise steps forward that I could actually follow.
Jen shares her knowledge and wisdom so selflessly and doesn't hold anything back. She truly cares about you and where YOU want the studio to go and helps give the practical tools to make it happen.
As a result of her systems and strategies, I have been able to grow my student numbers higher than ever before this year and have also increased profitability across the business."
Tash – NSW, Australia